Whether you are a first-time mom to a newborn, or your child is already walking around and out of the diaper stage, we as parents all (or at least most of us) remember that stage of our babies' lives. Yes, we are talking about those months or years where sleep was (or is) non-existent. That stage where a few hours shut-eye a night was a glorious treat, rather than a necessity. Perhaps you remember falling asleep in the strangest places, purely because you were just so tired…but, imagine being so exhausted that you fall asleep at your newborn shoot?
For many parents, a newborn shoot is a must to capture their precious bundle in all his or hers wrinkly cuteness. But, falling asleep while the photographer is shooting is not something that happens often, can you imagine being so tired that both you AND your partner pass out while the shoot is on? For parents Cindhi and Ross Davis, this is exactly what happened. And now, it's gone viral!
This mom and dad passed out during their newborn shoot
Simply Joyful Moments Photography captured some pretty adorable shots of parents to baby Theodore, who passed out on the studio sofa while he was being photographed. Ironically, mom Cindhi even told Today how excited she was to get out – it was her first outing since baby Theodore was born.
"It was the first time I'd been out of the house since the hospital. I was so excited I got to wash my hair and put on normal clothes."

Cindhi Davis
Theodore's dad, Ross, decided to take a seat on the studio couch, his wife joined him. Within a matter of minutes, the exhausted new parents had totally passed out! The funniest part is, they woke up after the shoot was done!
"I remember leaning into my husband and thinking, 'I'm just going to sit here and watch the shoot.' That was my last thought. Next thing I know, Sarah is like, 'It's done!' And I was like, 'What? What do you mean it's done?' I had passed out cold. It was the first bit of uninterrupted sleep we'd had since Theo was born."

Cindhi Davis
Read: These powerful photos prove feeding a baby is beautiful no matter how you do it
All in a days work
Thankfully, photographer Sarah Jankowski and her assistant Amanda Walker managed to get the newborn shoot done without mom and dad's help, putting baby Theodore into all sorts of adorable poses and outfits while his parents napped on the sofa. Apparently, this is not the first time parents have fallen asleep on the studio's couch while having a newborn shoot:
"When parents come in, it's usually when the baby is one or two weeks old. I've got a white noise (machine) going and I keep the room nice and warm. You put all those factors together and it's a recipe for a nice comfy nap," she told the outlet. "[Ross and Cindhi] just looked so adorably snuggled up and completely out. When they woke up 45 minutes later, they were like, 'We needed that so much.'"

Sarah Jankowski
Here is the precious snap from the newborn shoot, showing exaclty what its like to be a new parent – TIRED!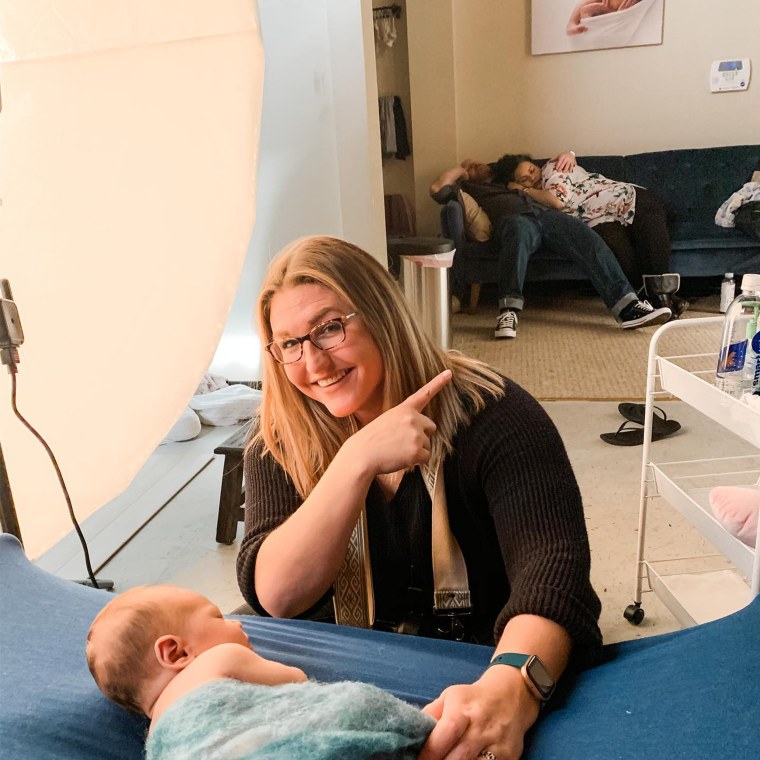 Keep Reading: Couple wears their original wedding attire for an adorable 60th anniversary photoshoot