According to some people, peanut butter goes with everything, including, apples, berries, ginger, celery, shrimp, sweet potato, honey, oatmeal, cinnamon, and of course, chocolate. But even they may draw the line at this strange combination: peanut butter and mayonnaise sandwiches.
Peanut Butter and Mayonnaise Sandwiches, Yes or No?
Peanut butter and mayonnaise sandwiches are a thing among common Southern food trends. In fact, this sandwich originated in the Great Depression and it was as popular as peanut butter and jelly.
For instance, Jodie Pottorff Mull, who grew up in North and South Carolina, explains that she grew up eating peanut butter and mayonnaise sandwiches. It was almost part of the weekly routine since she ate them often on Saturdays after grocery shopping. It wasn't anything outlandish or weird to her.  "A special treat was to add bananas as well as the mayo," she said. "However, I have never met anyone else who didn't make a face when I mentioned it."
Advertisement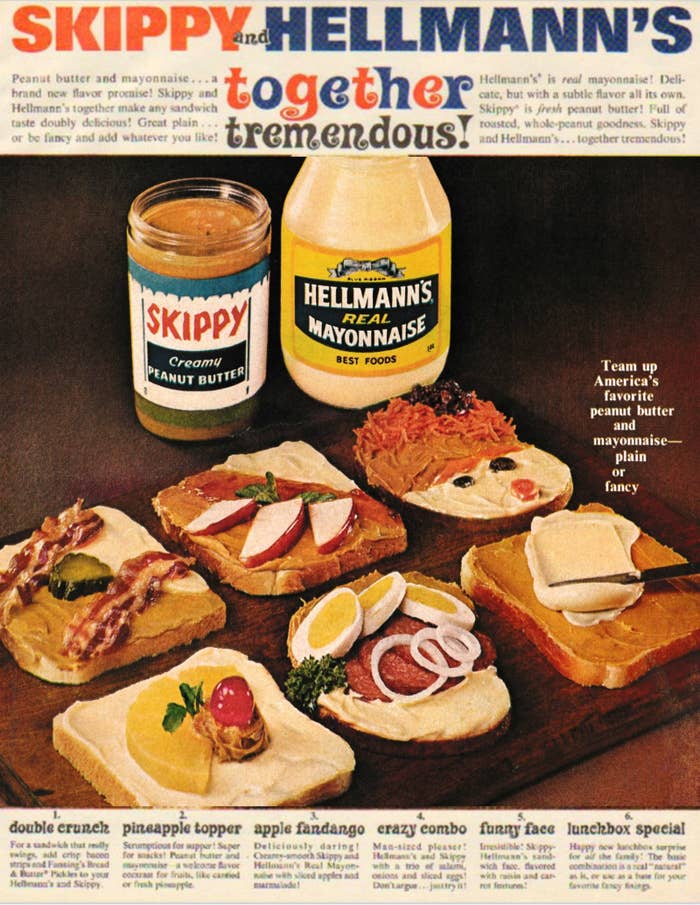 And she's far from the only one. Chef Nathan Thurston of Millers All Day in Charleston, South Carolina, explained that he used to bring peanut butter, mayonnaise, and banana sandwiches to school as a child. He still enjoys the combination today, and he's considered adding a hot griddled version to his restaurant's menu. [1]
Speaking of menus, JIF's peanut butter brand has a recipe on its website for a BLT that includes peanut butter and mayonnaise. 
Yay or Nay?
So peanut butter and mayonnaise sandwiches are clearly aren't anything new, and many people find them delicious. Meanwhile, the internet is full of advocates and naysayers in a debate that rivals the pineapple on pizza war.
Advertisement
"I'm Aussie and as a kid I combined the two and have since," said one user on Twitter. "Peanut butter in a sandwich is a bit dry and you don't want to add jelly? Add mayo instead."
"I was five when I saw my mom eating a peanut butter-mayo-mustard-lettuce sandwich," said another. "She let me have a bite. It instantly became one of my favorite foods. Honestly, I don't eat it enough, for how good it is! If you've never tried this, do yourself a favor."
However, many people were having none of it. For instance, "If you've ever made and consumed a peanut butter and mayo sandwich, we can't be friends anymore." There was also, "If you ever think eating a mayonnaise and peanut butter sandwich is okay I'm pretty sure you're a serial killer."
Read: Lemon Meringue Cupcakes · You'll Love These
Advertisement
Other Peanut Butter Combinations to Try
This is, of course, a very intense and very important discussion. But are peanut butter and mayonnaise sandwiches really the worst combination involving peanut butter? Here are some more combinations you may have never heard of before:
Advertisement
Beef. Peanut butter actually goes very well with meat. Many people use PB as a condiment for hot dogs and hamburgers. You could also add it to sauces for classier dishes.
Raw carrots and broccoli. You've heard of PB on celery AKA ants on a log. But apparently, other raw vegetables complement the spread just as well.
Scrambled eggs. Eggs aren't very flavorful on their own, which is why they may be a good canvas for a spoonful of peanut butter.
Chili. If you think peanut butter could only be paired with sweetness, you are wrong. It also goes very well with hot spices. This applies to savory noodles or sauces.
As far as peanut butter sandwich combinations go, here are some you might want to try if you can't stand the idea of mayonnaise.
Advertisement
Peanut butter and pickles sandwich. No, this isn't a pregnancy craving; it's actually a fairly well-known combination. The crunchy saltiness of the pickles actually complements the peanut butter very well.
Peanut butter and potato chip sandwich. Chips provide the same crunchy saltiness of pickles, just drier and more greasy. Similarly, some people like using PB as a dip for their chips, specifically tortilla chips.
Peanut butter on pizza. Perhaps this will distract people from the pineapple pizza debate.
More Combos For Peanut Butter Lovers
Additionally, here are a few other options you may want to try — or stay far, far away from.
peanut butter + salad
peanut butter + tuna sandwich
peanut butter + grilled cheese
peanut butter + coleslaw sandwich
peanut butter + refired beans
peanut butter + liver
peanut butter + cottage cheese
peanut butter + popcorn
peanut butter +  butter sandwiches
peanut butter + Nutella
peanut butter + cereal
peanut butter + ramen
Keep Reading: "Giggle Juice" Has A Full Bottle Of Moscato And Vodka In It, And It's All You Need This Summer
Sources:
"A peanut butter and mayo sandwich? This polarizing combo is shocking the internet." Today. Lyn Mettler. September 25, 2018