What are two things we see on social media on the regular? Do shots of yoga poses and firstborns come to mind? If they do, then you're not alone, we've all seen them, and maybe we've even posted a few of our own as well. But how about combining these two in one post? Well, believe it or not, the Olympic snowboarder Torah Bright did exactly that when she posted a beautiful but somewhat bizarre breastfeeding photo via her Instagram page.
Torah is an inspirational mother and has documented each stage of her journey of motherhood proudly for her followers. They should be familiar with breastfeeding by now, you would think, but did she go too far? Her proud image showed her in a headstand pose, breastfeeding her 10-month-old son. This might seem outlandish, but she is an extreme sports personality, after all. Let's find out what the response to her was. [1]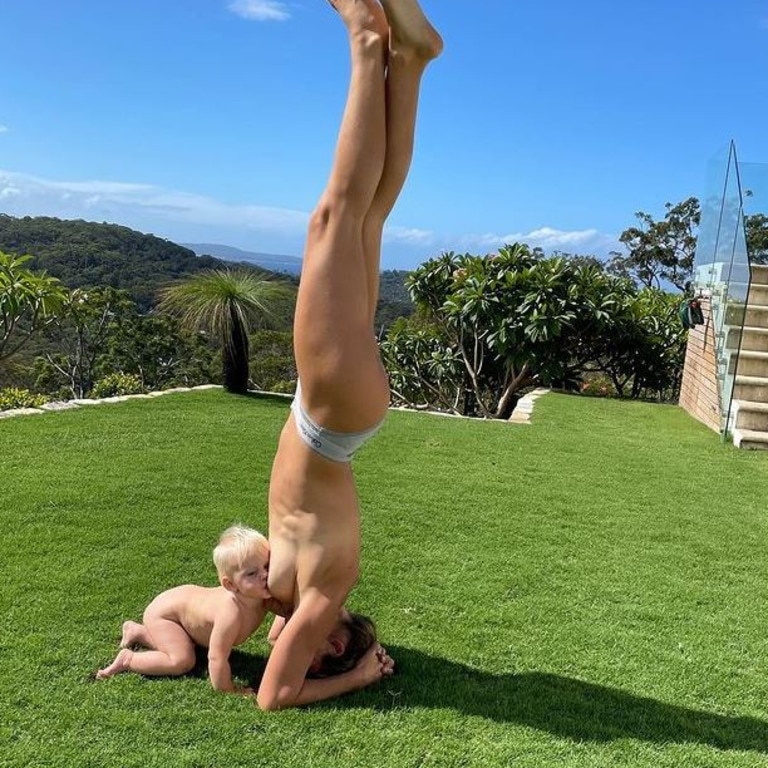 Torah celebrated her first Mother's Day
Torah, 34, is one of the most successful Australian athletes. After winning gold in the halfpipe at the 2010 Winter Olympics in Vancouver, she earned a silver at the Sochi Winter Games in 2014 before becoming the first-ever athlete to qualify in all 3 Olympic snowboarding categories. In true Torah Bright style, her journey into motherhood was filled with excitement. Her bizarre breastfeeding photo was posted in a series of family pics celebrating her first Mother's Day. Some of us seemed to think that performing a headstand while breastfeeding was slightly extreme, even for her. The picture quickly amassed over 14,000 likes shortly after posting it, with so many comments from supportive fans who were simply amazed. Torah was very proud to share this moment, but not everyone felt the same way about it, particularly fellow mothers. [2]
Advertisement
Read: These powerful photos prove feeding a baby is beautiful no matter how you do it
Not everyone liked her acrobatic breastfeeding
The caption for Torah's bizarre breastfeeding photo said, "becoming a mother has unleashed something inside of me." It went on to say that "it's deeply spiritual. It's primal." She continued, "it's raw. It's fierce. It is pure. I am mother." She hoped to be "heard, honored, respected and encouraged."
Amazed at the pose in her pic, a fan asked, "how long did you manage to hold that position in photo 4?" To which she responded, "Haha, just long enough!" Not everyone felt the sentiment, though, and thought she was seeking attention with the post. One comment said, "it's not about handstands n (sic) seeing how that child could actually latch on for likes." A further commenter felt, "it's not all about you, love." They said she should "just feed your kid normally." It seemed like some weren't as empowered by the acrobatic picture of motherhood as she had intended. [1]
Advertisement
Tora Bright, @torahbright/Instagram
Advertisement
Her response was heartwarming
Torah was "saddened" by the comments, and later clarified her bizarre breastfeeding photo in an Instagram story. She reached out to fellow moms, saying "in my world, mothers should be each other's cheerleaders." She then added, "it's hard enough." Torah felt we should, "embrace our quirkiness and finding the joy in every s****y thing that is motherhood." She continued, saying that "we all do it differently, it is not wrong or right." She then joked that her acrobatic pose was not intended as a "sustainable breastfeeding practice. Motherhood is pure," Torah said. "I only now consider myself a Wonder Woman because I have joined the sacred MOTHERS club with you." She went on, saying "nothing but respect to all mothers." Then she concluded, wishing "love to all mothers who need it right now. I got your back… You are not alone." [3]
Advertisement
Keep Reading: Breastfeeding mom's touching encounter with an orangutan has people swooning—and debating
Advertisement
Sources
"Famed Winter Olympian Torah Bright sparks debate over impressive breastfeeding photo." 7news. May 17, 2021
"Olympian Torah Bright Responds To 'Sad' Backlash Following Powerful Breastfeeding Photo." marie claire. May 20, 2021
"Olympic legend Torah Bright responds to 'sad' nude breastfeeding picture backlash." Fox Sports. May 17, 2021