The effects of technology use and screen time on children and youth, positive or negative, are relevant now more than ever. From news stories to research studies, parents, educators and scientists alike are all eager (and worried, perhaps) to know what technology is doing to our young people and the generations to come. To add to the ongoing conversation, researchers recently linked handheld screen time to delayed speech development after studying 894 children.[1]
The Effects of Handheld Screen Time on Toddler's Speech
In early August 2017, a staff pediatrician and scientist at The Hospital for Sick Child (SickKids) Catherine Birken and her team published a study in the American Speech-Language-Hearing Association (ASHA) Leader. Over the course of 4 years, they examined 894 children between the ages of 6 months to 2-years-old.
Between 2011 and 2015, Birken's study – the first of its kind – sought to better uncover and understand more thoroughly the effects of handheld screens on toddlers before they could talk. This included devices such as smartphones, tablets, and electronic games. Over the course of about four years, parents recorded how often they allowed their children to have handheld screen time.[1,2]
Advertisement
One and a half years into the study at one of their checkups, researchers learned that 20 percent of children used handheld devices for an average of twenty-eight minutes per day. With the help of a screening tool that can gauge language delay, Birken's team found that:[1]
"The more handheld screen time a child's parent reported, the more likely the child was to have expressive speech delays."
By the end of the four-year study, researchers suggested that with every 30-minute increase in handheld screen time, children's risk of expressive speech delay increased by 49 percent. It is significant to note, however, that researchers could not link handheld screen time to other delays in communication, e.g., gestures, body language, or social interactions.[1]
As a result of these findings, Birken and her team support the American Academy of Pediatrics' recent media use policy: avoid use of screen media other than for video-chatting for children younger than 18 months.[2,3]
Advertisement
Psychologist Sue Palmer Believes iPads Are the Biggest Threat
In 2007, Sue Palmer published a book called "Toxic Childhood: How the Modern World Is Damaging Our Children and What We Can Do About It." Strangely enough, Facebook had just started making a splash and many parents and educators were more concerned with kids watching too much television or playing unnecessarily violent video games. However, in the last few years, Palmer has noticed something that is arguably worse…
Advertisement
We talk about handheld screen time and the exponential growth of babies who can't even walk yet swiping away at sleek, sexy screens. That is Palmer's beef: the fact that parents are using tablet computers as pacifiers.
Advertisement
"Sadly, we're seeing the rise of the 'techno-tot' for whom iPads have become the modern-day equivalent of a comfort blanket." [6]
In her piece for Daily Mail, Palmer highlighted a handful of eye-opening studies that shed a frightening light on how handheld devices are displacing real play and real parenting. [6]
Advertisement
10% of children under 4-years-old are put to bed with a tablet computer to play with as they fall asleep
1/3 of children under the age of three have their own tablets
It doesn't seem like iPads and other handheld devices are going out of fashion any time soon. The modern parent isn't necessarily helping either. So, we've done some research and outlined the positives that can hopefully impact children positively. However, it will take the parents to truly make this a reality.
The (Potential) Pros of Handheld Screen Time for Children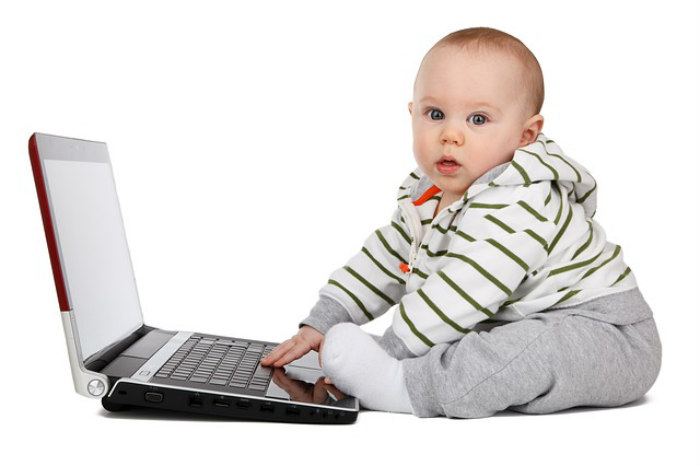 "One of the challenges is the pace of technology is outstripping the pace of research," said Birken. "It's a big challenge."[4] It is definitely a challenge that many parents and educations are struggling through.
But there are parents who endorse healthy handheld screen time and are seeing the benefits firsthand. Indeed, there are mothers in this community who wholly attest to the fact that the iPad, for example, has helped their young ones read, speak, and use words they see modeled in the apps. This is an important point – every child is different. Simply because a study suggests that handheld screen time delays speech development, it does not necessarily mean your child will.
There are some promising benefits of technology usage and handheld screen time for children and youth. For example:[5]
Educational apps professionally geared towards developing children can help teach them about stories, language, numbers, shapes, and colors.
Artistic apps that are built around making sounds and drawing or painting can open a child's eyes early on to a lifetime of creative ability.
Other educational game on iPads or tablets can also improve fine motor skills. They can require using just one fingertip to drag an object from one side of the screen to the other. Free puzzle apps are another great avenue to help your child develop both physically and mentally.
We understand that there are families where both parents need to work. Be honest, even if you don't always have to work, there are many moms and dads out there for whom a screen is a savior some days. This may be a sad reality, but the important thing to remember is that toddlers are still developing.
For the Parents Still Worried About Screens…
There are other alternatives to digital media that can keep kids perfectly occupied! Here are some fantastic ideas.
Keep Reading: Mom notices drastic effects 7 months after pulling the plug on screen time for her kids
Sources