Most of the time, children grow up somewhat carefree, being sheltered from the woes of the world by their parents. This is not always possible, no matter how hard their parents try, because children do have minds of their own. Some have stronger willpower than others, so occasionally, you find a rambunctious child. Subsequently choosing their independence over the coddling. One child managed to wander off from his parents at a mere two years old and ultimately suffered severe burns on over 98% of his body. But now, he is the father of two healthy teenage girls!
Father Suffered Burns as a Child
Chris Tomlinson grew up with intense scarring all over his body. When he was only two, he managed to escape the watchful eyes of his parents and snuck into the garden shed. This would normally be a young child's exploration dreams come true, however, he managed to spill a can of gasoline on himself. Then the pilot light for the geyser turned on and the gasoline instantly burst into flames engulfing Chris's body. His mother rushed him to the hospital, but the damage was already done.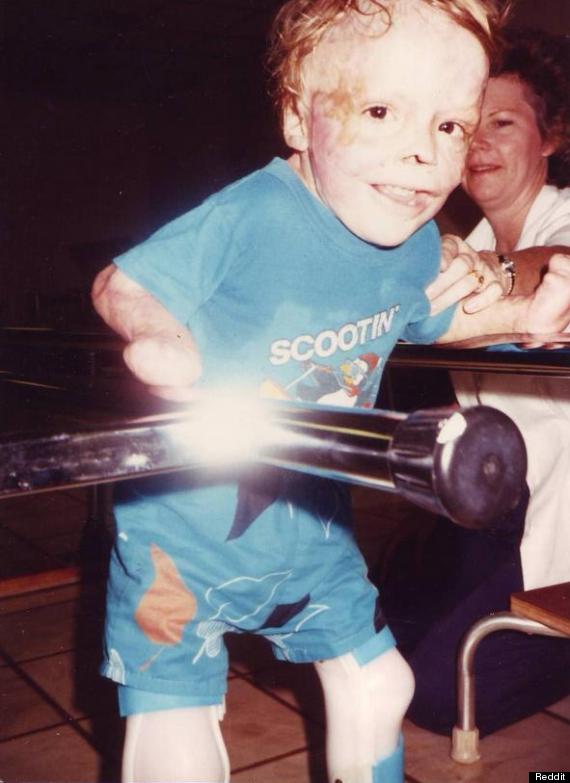 98% of his little body was burned, and the pain was unthinkable. The doctors who treated him gave him a 1% chance of survival, but he survived despite the odds being against him. He grew up scarred from head to toe, and the hardships never ceased. As an adult, he was told it would be next to impossible for him to have children of his own, but his determination allowed him to defy the odds once again.
The difficulties were not just with conceiving children, but also with keeping a stable job. He has been struggling to find work. Chris and his family are now homeless so he took to social media to express his struggles and to raise awareness about the way people with disabilities are treated. His TikTok account, @thechristomlinson has a whopping 49.5 thousand followers, all eager to see a glimpse into his life. 

After 14 years of marriage, Chris's wife walked out on him and his two children. He was now a single dad with disabilities, raising two kids alone. "It's horrible," Chris said when asked how he felt about his wife leaving him. "I'd rather be burned all over again than to experience that pain."
Chris Has Faith in God
As he grew, he did not lose his faith, and his love for God allowed him the courage to live a full life. According to God Updates, Chris said:  "I always found the positivity in everything. I had this big old smile on my face because I knew God was with me… It wasn't just by my strength, it was God who was there for me the whole time."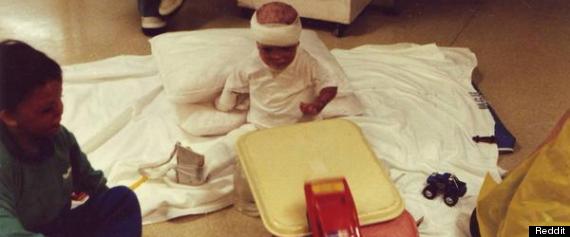 According to Chris, there are miracles performed by God every day. "Because a lot of people think God's not working anymore — God doesn't do miracles. God does miracles every second every day. All you got to do is look around you."

Read: Dying Father Hung Onto Life Just Long Enough to Hold His Newborn for the First and Last Time, Passed Away Three Hours Later
Chris Shares Views of Self Love
In a  video posted on Youtube by Special Books by Special People, Chris gave his insight on self-love. When he was asked whether he thinks people need to "accept themselves to live a full and happy life," Chris replied saying "to a certain extent." He then went on to say: "If you can acknowledge that we are different and we should embrace it. I also believe that you should be able to accept who you are because you are only going to be happy with life once you are happy with yourself. 
After admitting that he thinks he will "always struggle with things," his main point is that: "If you can fully find happiness within yourself, and love yourself," said Chris. "You can share that happiness with other people too."
A go-fund-me account was set up for Chris that would help Chris and his daughters with the basics of shelter, food, and clothing. His fans have been generous indeed, helping him to raise $63,145.
Keep Reading: Suddenly quadriplegic, newlywed Carol asked her husband for a divorce. His answer changed her life
Sources
"He Wasn't Supposed To Survive But This Burn Victim Dad Inspired So Many With His Story." God Updates. Mel Johnson. March 22, 2022.
"The Amazing Story Of How This Homeless Burn Victim Who Had 1% Survival Rate Inspired All Of Reddit. Huffpost. Eleanor Goldberg. August 26, 2013.