Makeup has been a big thing for centuries! From tribal ceremonial body painting to creating fake beauty spots on one's cheekbone. Makeup is, in its own way, an epic form of optical illusions, and since the development of the film industry, a whole different avenue opened up for makeup artists! We have an artist to share with you today who makes the most insane designs, using her own face as the canvas.
Mimi Choi: The Makeup Artist Creating Mind-Bending Illusions
These days, makeup artists are not limited to highlighting our best features, but they can actually reconstruct our facial structure. By actually, we mean figuratively – in a mind-bending optical illusion kind of way. One artist we have in mind is Mimi Choi. She is a 32-year old makeup artist from Vancouver, Canada. She veered away from doing the makeup of brides, and dance divas, and has taken her artistry to the next level and beyond! 
Advertisement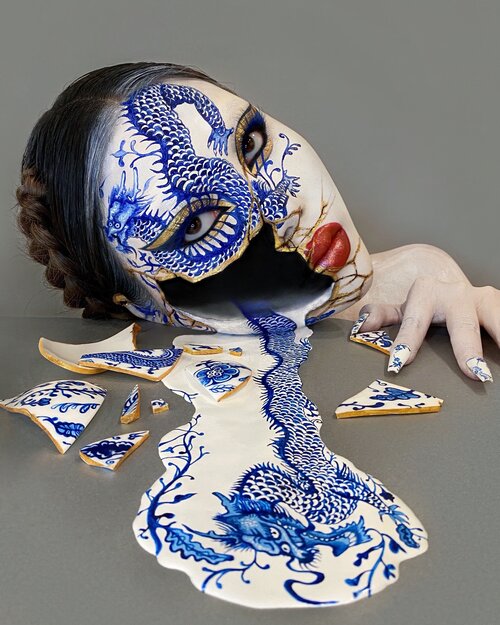 A little background on Mimi Choi includes her passion for makeup, starting from a young age. She used to experiment with the different brushes as a young girl. Eventually, she did a course at her nearest beauty college to improve her skills, and learn some new tricks!  But, it wasn't the college that taught her such nifty makeup skills! She found her passion for costume makeup by stumbling across some crazy makeup designs on Instagram. 
Advertisement
How Does She Do It?
Of course, most magicians will never reveal their secrets. If they did, the gig is up for all magicians. But, in Mimi's case, she is creating illusions with makeup. So, from what she has shared with the world, she uses a variation of black and white eyeliner. This is to create the illusion that the skin on her face is lifted. This is done by creating dramatic shadows with eyeliner pencils. It's not only up to the eyeliner pencils to create such fine makeup trickery. She is quite nifty with her color blending, and she manages to achieve her goals amazingly. Each design truly makes you want to touch your face as if what she has created looks far too real, and has given you the heebie-jeebies.
Advertisement
"My main goal each time I do a new look is to beat myself from yesterday because I'm the biggest critic and competition to myself. It's gotten really hard to impress myself these days but it motivates me to keep trying and doing better, "Said Mimi in an interview with Allure Magazine.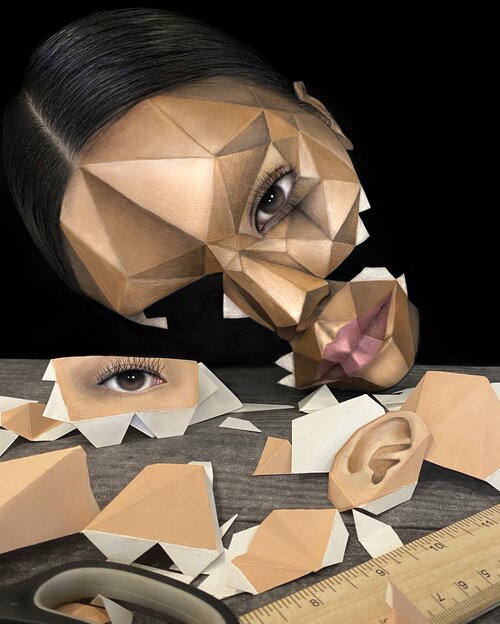 Some Examples
Mimi Choi has captured a lot of people on her social media pages. In particular, her Instagram page is filled with her own face that looks like it is unraveling in some way. Her followers are always looking out for her next design, but here are a few of her winners that we have found.
Read: Illusion grid shirt takes unusual approach to solving 'flat-chested problems'
Advertisement
Sunglasses
In this image, it shows Mimi's face with a pair of trendy gold sunglasses. She is looking over the rim of the glasses all sultry-like. But, the question is, from which eye is she looking, because she has created the illusion that she has two pairs of eyes, as well as mouths, and two noses.
Advertisement
Butterflies
You've probably seen how some women stick plastic butterflies to their face as a form of special effects makeup, but that is baby stuff for Mimi Choi. In this image, Mimi has created the illusion that the whole one side of her face is being engulfed by butterflies, but most of them are painted with makeup – directly on her face!
Advertisement
Turning Pages
This one is a real page-turner! And by that, we mean that Mimi has made it look like her face and neck are made of pages from a book, and she has her hand up as if she is about to turn the page! How trippy.
Advertisement
If you are as impressed as we are with Mimi's insane makeup skills, be sure to visit her Instagram and webpage!
Keep Reading: Couple wears their original wedding attire for an adorable 60th anniversary photoshoot