A Secret Life of Mom Highlight Story: Sometimes there are tales that are just too good, too beautiful, or too unbelievable to keep locked away. That's why we scour the archives and bring some of them back to enjoy again. They may make you smile or shed a tear, but they're always meant to add a little positivity to your day.
Panic. The searing feeling of your heart dropping and shattering into countless pieces. The thoughts so loud in your head; how did we get here?  This is a very likely feeling that must have coursed through Mike Hermanstorfer's mind on Christmas eve 2009. This is when he nearly lost his entire world in the blink of an eye. 

What started off as a very blessed Christmas eve, where Mike's wife, Tracy Hermanstorfer, went into labor. Imagine the elated energy between the two as they rushed off to the hospital for the arrival of their baby – the best Christmas present ever. While in the Memorial hospital in Colorado Springs, waiting for their little one to make his final push through the labor process to come into this world, Tracy suffered cardiac arrest and her heart stopped. 
Mike told an interviewer; "I lost all feeling. Once her heartbeat stopped, I felt like mine did too.". It must have seemed like the entire world has stopped turning. Mike reported that her hand already felt ice cold in his grip, her skin fading into a greyish tinge – did she die??
"Half of my family was lying there right in front of me — there's no other way to say it — dead," Mike was almost at a loss for words, but the doctors jumped right into action. Trying to resuscitate Tracy was not only urgent for her life, but also for her baby's. The longer Tracy's heart was not beating, the higher the chances are that the baby will have brain damage.
With no improvement with Reviving Tracy, the doctors called for the baby to be delivered in an emergency cesarean, but with no anesthetics. The baby's life is now at risk too. Alas! 

When the baby was born, he too was not breathing. Or so Mike thought, he told the interviewer; ""I thought he was dead until he gasped for air."

Read: Boy, 5, Ran to Neighbor's House with Infant Sister to Ask for Help After Mom Suffers Seizure in Shower
Mother and Baby Lived to Tell The Tale
Mike and Tracy's baby, though very weak from the lack of oxygen and fighting to stay alive during his birth, took his first raspy breath of life. Then, the little man opened his mouth and screeched at the top of his lungs. Mike later expressed to the interviewers how that cry had affected him; "When he let that cry out, that's when the whole world stops. Most parents can't stand the sound of a crying baby, but I'll tell you from experience that's one of the best sounds you could ever hear."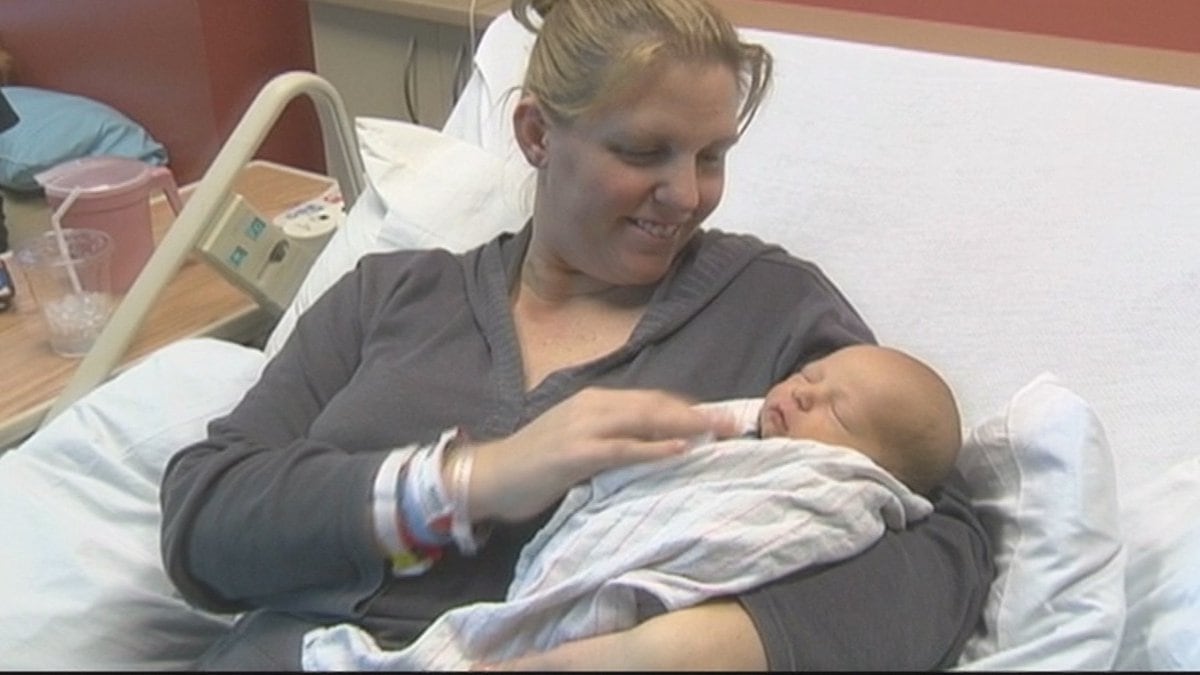 The next thing they knew, Tracy took the first breath she had independently since the cardiac arrest. They made it!
The doctors to this day are baffled by the case of Tracy and her son, Coltyn Mikel Hermanstorfer. Cardiac arrest is not the most common side-effect of birth, but what's even more peculiar is that both mother and son are here to tell the tale. On the other hand, Mike Hermanstorfer, a happy husband and father to a healthy young boy says; "There's only one explanation for having either one of them, let alone both of them here. It's just an absolute miracle."
Keep Reading: Trans man who gave birth to healthy baby boy opens up about pregnancy as a man
Sources
"Mother and baby survive near-death experiences." CNN. January 2010
"'Miracle' Mom and Baby 'Dead' in Labor, Revived." ABCNews. December 2009