A Secret Life of Mom Highlight Story: Sometimes there are tales that are just too good, too beautiful, or too unbelievable to keep locked away. That's why we scour the archives and bring some of them back to enjoy again. They may make you smile or shed a tear, but they're always meant to add a little positivity to your day. Enjoy!
Last year, one act of kindness, a donation, went viral, and it reminds us to always be the best person we can be.

The holidays are right around the corner, and that means good deeds are on the rise. Acts of kindness are so important during this time of year. Especially to those who are in the hospitality industry, or customer service. Not everyone has the option to take time off of work, and the added stress of paying bills, rent, and buying presents can really take a toll.
Donation of Kindness
Hannah Hill went to work at Waffle House in Stockbridge, Georgia as if it was any other day. She waited on tables, bussed dishes, and served patrons who were hungry for breakfast. However, it was not a normal day for Hannah. When Bishop Eusebio Phelps went to collect his breakfast order, Hannah's life changed. It all started with a $40 tip and a belief in divine coincidence.

Hannah was approximately 8 months pregnant at the time when Phelps entered her establishment. Realizing she was likely in need of assistance, he made the choice to give her some extra cash as a donation.
Advertisement
"She was so nice over the telephone. When I got there I paid for my food and I told her to keep the change," Phelps said. "And then when I looked at her, I asked if she was pregnant – she said yes. So at that time I was just really urged to give her the rest of the money that I had in my wallet, which was around $40. And so I gave her the $40. And I told her that I just wanted to bless her so she could buy something for the baby."

11Alive
Things likely would've ended there, however, something incredible transpired between them.

Read: Dad, Carlos Morales, Raises Quadruplets After Wife Dies During Childbirth
Miracle Inspired by a Name
Phelps and Hannah continued their conversation, with Phelps asking how far along the waitress was. Revealing she was 8 and a half months pregnant, Hannah mentioned what she planned on naming her soon-to-be son.
Hannah said that she plans to name her unborn child Samuel. Which is the same name as Phelps' son, who died seven years ago in Atlanta.

Unilad
The New Faith Christian Church pastor gave her a donation of $40, but wanted to do so much more.
Advertisement
"Well we lost our son Samuel seven year ago in Atlanta," he said. "It's coming up on the anniversary. I went home, I told my wife what happened. My wife and I were talking, I was like, 'listen I wanna raise a thousand dollars to give to Hannah so she can buy whatever she needs for the baby.'"

11Alive
That night, Phelps posted on Facebook about what transpired that day. Hoping to reach a donation amount of $1,000, he was pleasantly surprised to wake up and see it was much more. Phelps planned on surprising Hannah at the Waffle House with the money he had raised. In total, the donation mounted to $6,500 by that evening.
Advertisement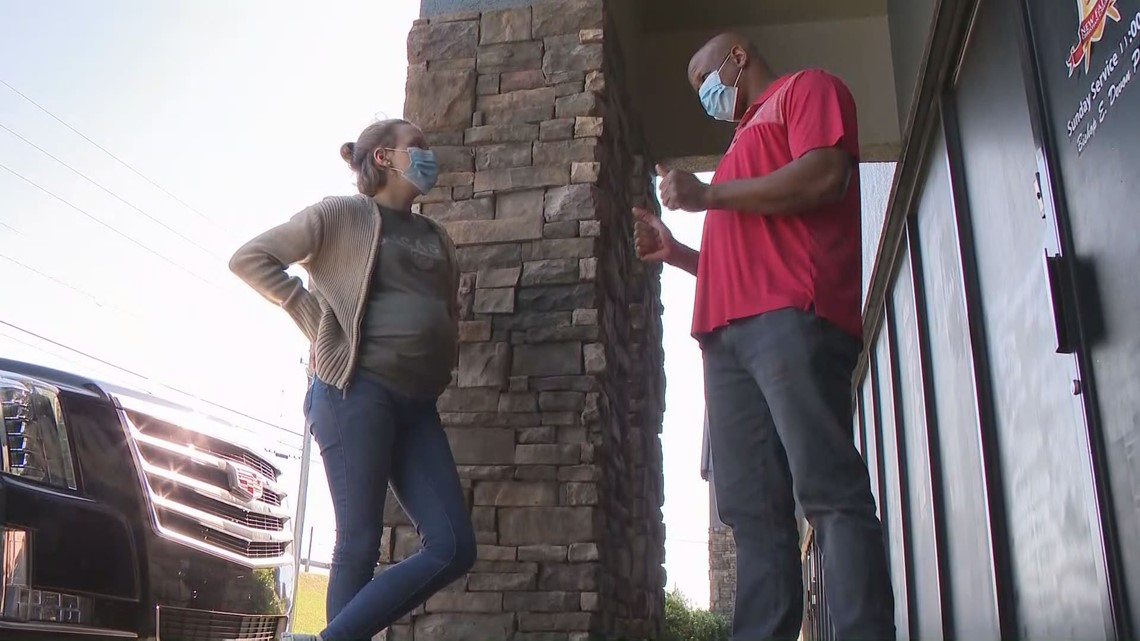 By the time Phelps finally reached Hannah, the total amount increased to a whopping $12,000.
Advertisement
Donation that makes a Difference
Hannah was sleeping and living in her car at the time. The donation from Phelps and the public truly transformed her life.
Advertisement
"I had a lot going on, and I don't really pray that often – I'm not necessarily that religious, I wasn't really raised in the church, don't go to church a lot, haven't cracked open a Bible in forever. But lately I have been praying," she said. "I've been really stressing lately… I've been worried about the baby getting here… I'm so grateful and that's all I can say. I'm so grateful and appreciative to everybody, God is good all the time."

11Alive
What's more, is that New Faith Christian Church offered to cover childcare costs for an entire year as well for Hannah. So, this holiday season, remember that kindness goes a long way.

Keep Reading: Poor Boy Pays Bus Fare for Woman with Kid, Then His Mother Receives $1 Million
Sources
"$40 tip leads to more than $12K in donations for pregnant Waffle House waitress." 11Alive. Jonathan Raymond. October 3, 2020
"Pastor Surprises Pregnant Waitress With Life-Changing $12,000 Tip." UniLad. Emma Rosemurgey. October 6, 2020