There is a new trend going around the internet, and millennials seem to be smitten by it. Have you seen what people are doing to vintage furniture these days? It seems that the majority of twenty-somethings prefer white paint to the appearance of natural wood grain. Many folks, like me, are wondering 'can you leave it alone please?'
Why Vintage Furniture Should Stay Vintage
It's not every day you come across a Victorian-era dresser, in near-perfect condition. So, if you do happen to find one, why would you paint it matte white? Now, of course, we are all for doing DIY projects and expanding your artistic vision. Be creative. Test the bounds of artistic expression. But…white matte paint?
Over the years and throughout the centuries that have passed, artistic expression was displayed through various styles of woodwork. From the Jacobean era of the 1600s through the Scandinavian contemporary design of the 1900s, wooden furniture has been, and always will be, an important aspect of the home.
Advertisement
Wooden vintage furniture will never go out of style. However, white matte furniture will. You never know when you will want an aesthetic change, and whatever way you go, vintage wood will work just fine. But, will matte white painted wood? Likely, the answer is going to be a flat no.
Another point I feel that needs to be made is how easy it is to care for and treat vintage furniture. It's much more difficult to care for painted wood than it is to care for vintage furniture. And if the item in question is in need of repair, a light sanding usually does the trick, followed by a coat of linseed. Whereas if you are to care for painted furniture, the flaking, and constant sanding, sealant, multiple coats of finish- it all gets to be a bit much. Especially when you could simply dust and keep your vintage furniture looking brilliant for years to come.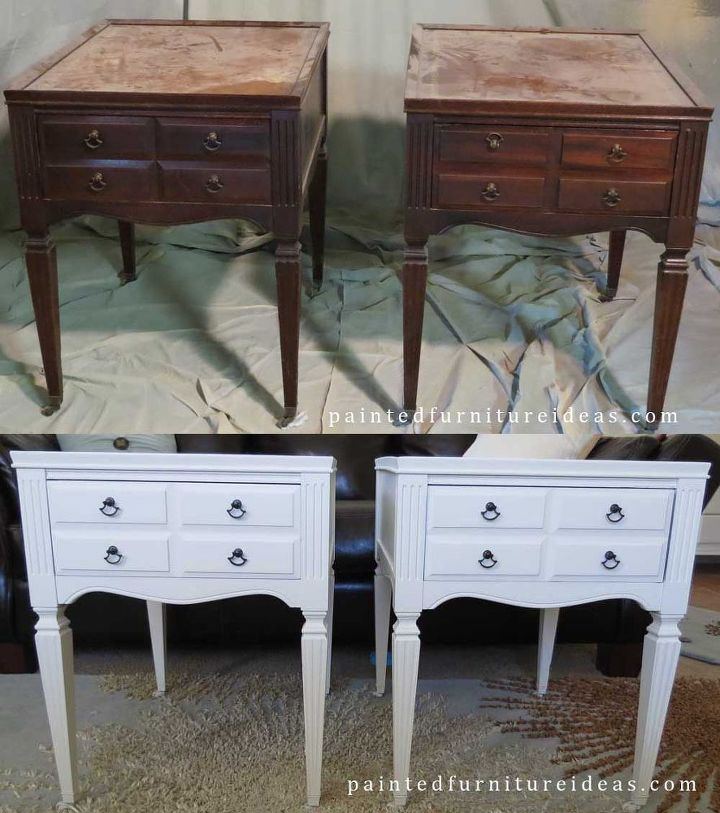 More often than not, the type of wood chosen was important. You can see that there are lines, and unique markings in each wooden furniture item you look at. The grain is one of a kind, and no two items are ever alike. Painting over that with something as plain as matte white paint is an atrocity.
Advertisement
Can you Please Leave the Vintage, Vintage?
Vintage furniture has a charm that white paint can't duplicate. The depth from certain designs, the intricate curves, the beveled edges- these are all lost as soon as you apply the first coat of paint.
Advertisement
What's worse is when someone decides to do the "shabby chic" look. Taking a vintage item and then sanding, painting, and sanding again, just to create a worn look, well it's downright confusing if we're being honest. Vintage pieces have survived this long in their natural state just fine. Applying this unfinished look to vintage furniture is known as "farmhouse," or "farm style."
Advertisement
Do you know what kind of vintage furniture style you prefer the most? Maybe you're not sure of what the name of the style you enjoy is called. We can help with that!
Advertisement
Read: Company Designs Chair for People Who Love To Sit Cross-Legged
Styles of Vintage Furniture
Jacobean (1600–1690) – Ornate carvings and straight lines
Queen Anne (1700–1755) – Famous for the shape of the curved legs, and bat-wing drawer pulls.
Chippendale (1750–1790) – This style incorporates Gothic, French, and Chinese influences into a Queen Anne-esque motif.
Victorian (1840–1910) – Noted for its elaborate designs, Romantic influence, heavy proportions, and dark finish.
Art Deco (1910–1939) – Geometric shapes and sweeping, angular lines define the ever-so-popular style of Art Deco.
After browsing through the various styles, is there one you like more than the others? Let us know in the comments what you think about painting vintage furniture, and if you would ever do it. Maybe you have had a recent DIY project you loved, or didn't love so much. Either way, we'd love to hear about it!
Keep Reading: Genius Invention: A Rocking Chair With An Attached Bassinet