We never truly understand grief until something profoundly horrible happens to us. It is easy to offer condolences to others, but we really have no idea what the pain of grief is until it is our turn. Unfortunately, every one of us will eventually have that turn. Some of us, more than once. For this man, losing his wife of 51 years was that turn. Richard Toth wrote about his experience with grief for Huffington Post, this is what he learned from losing the woman he loved most.
An event filled with grief, that would change everything
Richard and his wife, Brenda, had just celebrated their 51st wedding anniversary. A milestone not many can say they have reached. One fateful day, Brenda went into the garden to tend to the flower beds. A normal day. Richard stayed indoors to play computer games. Richard recalls how he realized his wife had been outside for quite some time, so, naturally, he went to check on her.
She was coming across the lawn, but something was wrong. She was walking oddly.

Richard Toth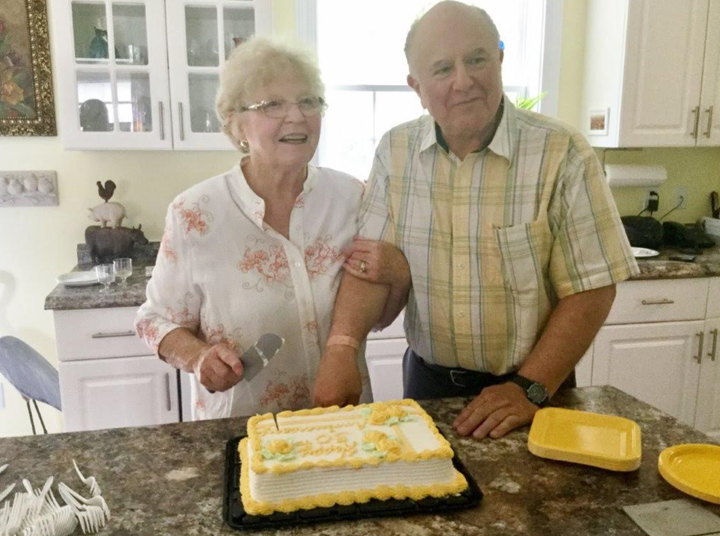 Richard remembers asking his wife if she was okay, to which she replied that she had fallen. There was blood running down Brenda's face. She had fallen onto a cement lawn ornament while trying to move it. After a bit, Brenda agreed to go to the doctor.
Advertisement
"The blood's not slowing and I can't tell where it's coming from. It doesn't seem to be coming from your eye. We'll go to emergency and get it checked out."

Richard Toth
Read: My wife is dying – is our seven-year-old daughter too young for the funeral?
Richard says his wife needed two stitches on the cheek. The doctor advised they drive from their rural hometown to the city for a CAT scan, just in case there was damage to her eye socket. This was only the beginning of where the grief started for Richard.
Unfortunately, the scan showed a tumor
"It's a large tumor. It would appear to be malignant. I can remove it surgically. There are two other smaller tumors. One is deep and inoperable. Both will continue to grow in size. There is no cure. I'm sorry."

Brenda's Doctor, name unknown
Richard and Brenda both knew what was to come. She prepared to be operated on. The grief Richard would experience had barely started, but already kept in.
Advertisement
Brenda underwent a nearly six-hour operation. There was a stay in the neurosurgical ICU, then a transfer to the oncology ward, and then the start of chemo and radiation therapy. It was made clear that the best the doctors could do was "buy Brenda some time." During chemo and radiation treatment, I brought Brenda home on weekends.

The average life expectancy after a glioblastoma multi diagnosis is about a year.

Richard Toth
Brenda slipped away peacefully on Sunday, Jan. 27, 2019, early in the morning.
Advertisement
Read: Postman returns Father's Day letter sent to heaven
Advertisement
The grief and what it taught Richard
Richard explains that he always thought he would be ready and be prepared for this day, especially knowing it was coming months before. But Richard was not ready. The day his wife passed away, the silence was painful. These are some of the things about grief Richard learned after losing the love of his life:
Advertisement
One of the suggested ways of "dealing with grief" is by "keeping busy." I found out that being busy for a purpose is different from being busy just to keep busy. That amounts to spinning your wheels and staying in one place. When I found myself doing that, I stopped.
I found out that being with other people can help — but only up to a point. In a group, whether it was with family or friends, I was more aware than ever that I was now on my own. When I was with other couples, it was with the realization that I was once with someone, too.
The simple passing of time has helped me deal with a grief that never completely leaves. Anything can bring back the reality of having lost Brenda. Some object we bought on a trip reminds me of a happy time together. Photos, of course, are a reminder. Anniversaries and birthdays and holidays can be emotional. So, too, can someone's casual remarks about some almost forgotten incident. Someone says, "Remember that time when we were with you and Brenda and …" and I immediately recall some part of that incident and I feel the sudden pressure behind my eyes. A tissue becomes useful then.
Finding love again
While many of us think we could never love again, we can. For Richard, that was with Ruth. She lost her husband and she too had experienced the painful grief of losing her partner.
What's worked best for me in dealing with Brenda's death has been seeking out people who can talk openly about death and about what the death of a loved one means to them. Death remains a forbidden topic in our society. But there are those who will talk about death without clamping their hands over their ears and mouths. Seek out those people. Talking with them helps.

I got incredibly lucky. I found someone else. Ruth is open. She lost her husband. We can talk about grief in ways that we can both relate to.
A final note on grief
Richard ended his article with one last thing. Some precious words of advice for those dealing with a similar loss.
Reconnect with nature. A walk in the woods is restorative and awalk along the shore is restorative. A walk in a park, through a flower garden, beside a stream, beside a marshland is restorative. Plants grow, birds fly, clouds move, bees buzz, the breeze blows. And that will always be.

Richard Toth
Keep Reading: Two years on, he still asks to go to heaven to be with his stillborn sister