Everyone knows that TikTok is the place to be to keep up with the latest trending dance moves and find new music. However, you might not know about the food hacks, trends, and recipes that you can also access every day on the platform. Now, there have always been some bizarre food trends online. Some bring you tasty new ways to prepare your favorite treats, while others are just plain weird. Perhaps we're not all as open-minded as we thought. I mean, does putting yellow mustard on watermelon slices sound good to you? Outlandish as it may sound, the shock factor certainly turns these wacky ideas into established viral food trends. Watermelon is loved all over the world, and we're always keen to spice up our lives in new and exciting ways. Well, this is certainly something you CAN try at home. So, why not decide for yourself?
It all started from a TikTok user
Apparently, the mustard on watermelon food trend was originally started by a TikTok user called @yayayayummy. While their profile shows an avid interest in quirky flavor combos, none of the videos have hit home with their followers quite like the mustard on watermelon clip. The video has generated over 1.7 million views to date and did the rounds on various social media platforms and blogs. It also generated interest from celebrities like Lizzo, who couldn't resist trying it out to see what all the hype was about. Her hilarious response stacked up an astounding 25.8 million views, and it accurately captured the experience of jumping onto a new food trend. So, no matter if you're a gourmet foodie, a condiment connoisseur, or a fresh fruit puritan, it makes you curious to try it – even if just to see for yourself. Who knows? You might just be pleasantly surprised.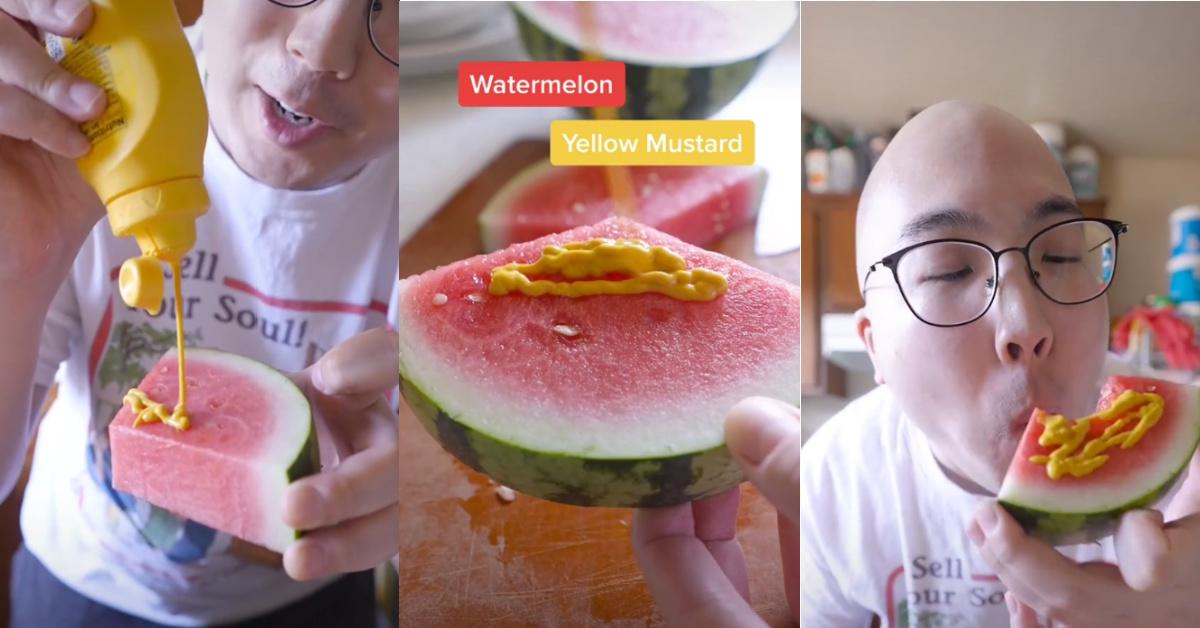 Read: How Many Of You Actually Recognize These Gadgets? Have You Ever Used One?
Advertisement
What does mustard on watermelon ACTUALLY taste like?
Well, according to @yayayayummy, the "vinegary" tang of the mustard perfectly offsets the natural sweet fruity flavor of the watermelon. What's interesting is that crazy flavor combinations like these are nothing new. Combining fruit with vinegar is a very old practice used to get flavor from fruit of lower quality. The well-known Italian dessert, Fragole all'aceto balsamico, or strawberries with balsamic vinegar, is a perfect example of this. The difference is that the mustard on watermelon combination makes use of a common household condiment that we all know and love (well, most of us anyway). The accessible nature of doing something new, like creating a taste sensation with an item you're already familiar with, is why these ideas catch on so quickly. Mixing sweet and savory foods is also something that has been enjoyed in Eastern cultures for centuries, but now we're finding new ways to do them at home.
The response online was divided
On Twitter, one user called @maroua____, admitted, "my brother just came downstairs and caught me putting mustard on watermelon…….I DON'T EVEN KNOW WHAT TO SAYYYYYY."

Another tweet from @ceebeeradio said they actually enjoyed it. "Just ate some watermelon with mustard I can't believe it, but it's actually pretty good."

Meanwhile, @randomgirl1270 felt differently, saying, "my daughter ate mustard on watermelon. I have completely failed as a parent."

Another Twitter user, @t_saylor09 expressed their amazement. "So, I jumped on the bandwagon and I tried the current trend with watermelon and mustard… Someone, PLEASE explain to me why it was GOOD?!?! My mind is blown." Some loved it, some didn't, but it seems the mustard on watermelon was an acquired taste overall.
Keep Reading: I pack my hubby's lunch every day – people say I 'treat him like a child'
Sources:
Advertisement
yayayayummy. TikTok. May 3, 2021.