A Secret Life of Mom Highlight Story: Sometimes there are stories that are just too feel-good, too beautiful, or too unbelievable to keep locked away. That's why we scour the archives and bring some of them back to enjoy again. They may make you smile or shed a tear, but they're always meant to add a little positivity to your day. Enjoy! 
Advertisement
Family is everything. They are the people who come to your aid, no matter what. This reflects in so many ways, and those lucky enough to share such a bond with people can appreciate the lending hand that is not far behind. Most grandparents do not expect to be raising children after their own kids have grown into adulthood, moved out, and have children of their own. They settle for the fun excursions, supplying all the sugar that their parents refuse them, and handing them back to their parents to enjoy a restful evening. Sheila Weisgerber is a 48-year-old grandmother who is raising her triplet grandsons because no one else was able. In the midst of her struggle, she found hope in the form of a blessing from strangers.
Advertisement
Raising children is Hard
Sheila's daughter had originally tried to raise the boys. Their names were Ashton, Bentley, and Dalton, they were her nephews, and she loved them. The tricky part was that she was already a mother of a little boy, and her husband had died tragically in a car accident a few months back.

She tried her best, but the additional three baby boys were too much for her to handle, understandably because she was doing it all alone. Sheila realize that it was up to her she offered to raise them herself. Sheila said in an interview with reporters for ABC News. "She tried to do it, and when the boys were two months old, she said she couldn't, so I stepped in and offered to raise the boys.
Advertisement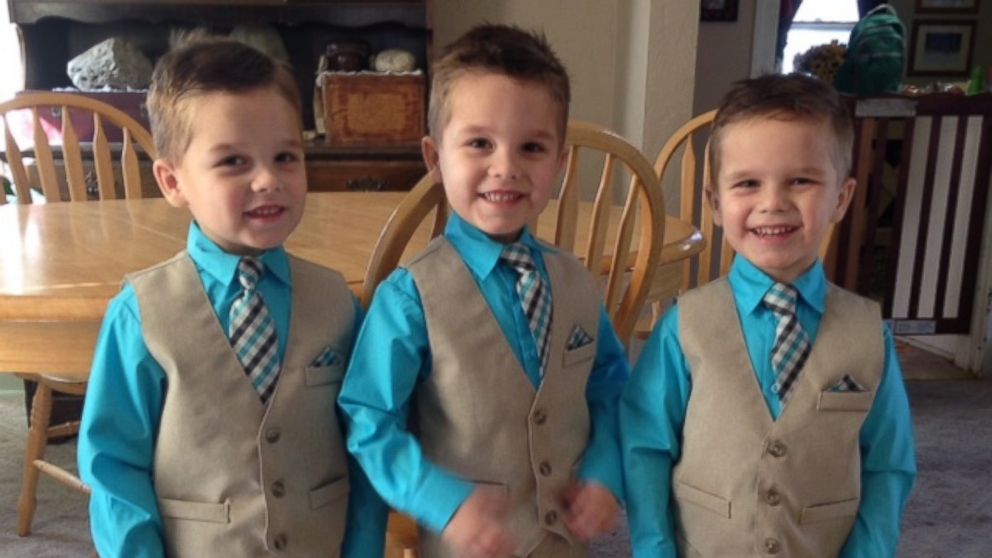 It is clear that she completely understands her daughter's struggles and is not resentful of taking the children in. She had her own struggles raising the triplets, even though she had already raised her own children. She was a lot older than her mothering days, and this time she was raising triplets! Regardless of her struggles, Sheila expressed how she loved the opportunity to watch them grow up in a way that most grandparents did not get to appreciate. 

Read: Great Grandma Raises 6 Kids So Strangers Come In To Ease Her Pain
Advertisement
A Blessing From Strangers
Anyone who visited the bar that Sheila Weisgerber worked at would tell of her love for her grandsons. This is because Sheila would seize any opportunity to tell those who would listen about them. She spoke of their growth, and the things they would do together. Most of the time her ramblings about them were met with smiles, and she might inspire someone along the way, but one day, she ended up telling a couple who left her a blessing after the conversation that truly warmed Sheila's heart. 

On April 30th, a couple had entered the bar where Sheila worked. They were so enthralled by her story of how she was raising triplets by herself at her age, but she loved them so much despite her struggles. They ended up leaving her a gift in the form of a $300 tip, where the bill was only $33. A note has left that read, "Take care of those boys!'"

Sheila was surprised beyond repair, she was not used to such blessings from strangers, and had only heard of such things happening in the movies. She told ABC News. "I was in disbelief at first. I looked at it, and I looked at it again. You read stuff about it, and you hear about it, and you wonder, is it really true? Do people really do that?"

Read: Parents Gifted with Rare Black-And-White Twins Get the Same Blessing 7 Years Later
Advertisement
Sheila Could Not Help But Cry
Many People might relate to Sheila in that gratitude can be overwhelming sometimes. She was so grateful for this gift from people she had only just met that she had to run to the bathroom where she just let out a big cry. All of the stress from raising the triplets, loving them so much, and then the sudden rush of gratitude was too much to contain. She wept tears of joy too because she had something that could spread some joy at home.